Regular price
$320.19 USD
Regular price
Sale price
$320.19 USD
Unit price
per
Sale
Sold out
The MK3 Steel MetMo Cube is an update to the precision machined desk toy that took the world by storm in 2019. 

The MK3 Cube supersedes the MK2 as 'the most over engineered desk toy you can own!' 
---
Any orders placed including a Cube will ship out with the Cube batch selected. If you require earlier shipping for other items, please place a separate order. 

Dimensions

40mm x 40mm (1.57in x 1.57in)

512g
Technical Details

Important! 

The pins can be removed, but each pin has been fitted to a specific side and will only work in the side it has been fitted to the correct way up. If both pins have fallen out and you are not sure what side they come from, test them gently. If a pin feels as though there is resistance as it goes in, don't force the pin down as this can cause the pin to get damaged or stuck.

Machining Method: CNC Turning and Wire EDM
Share
View full details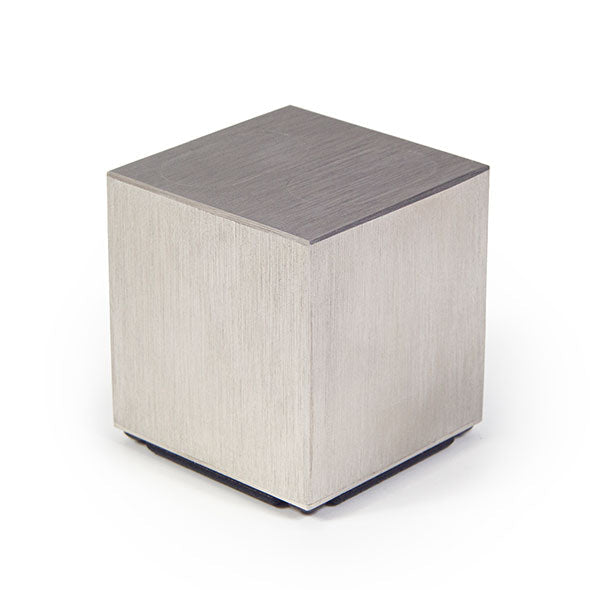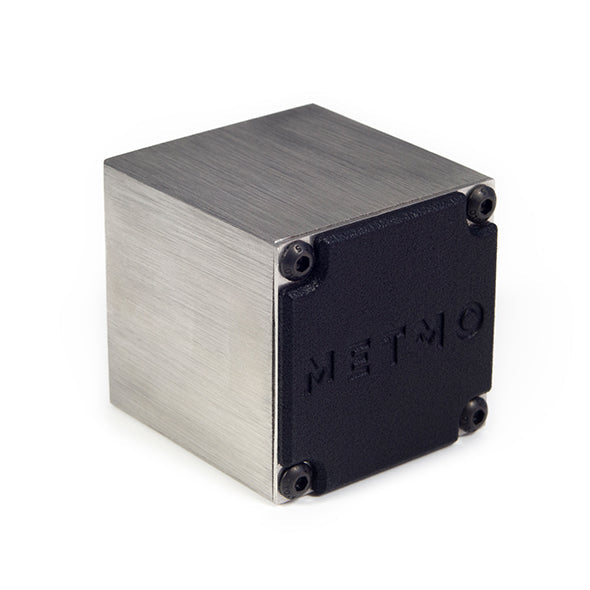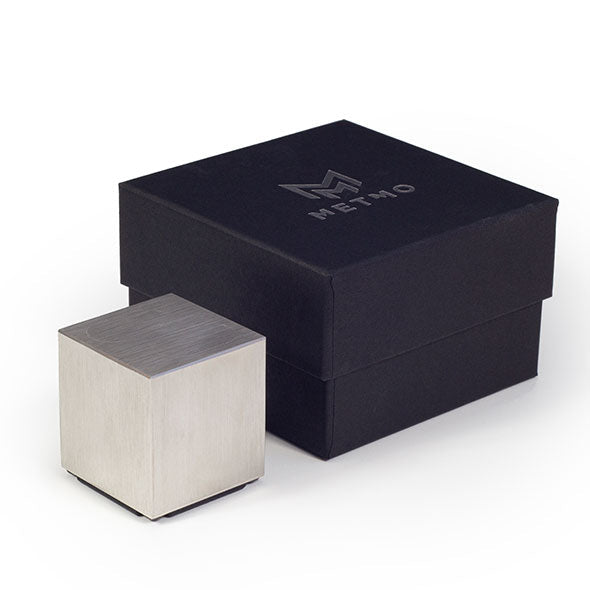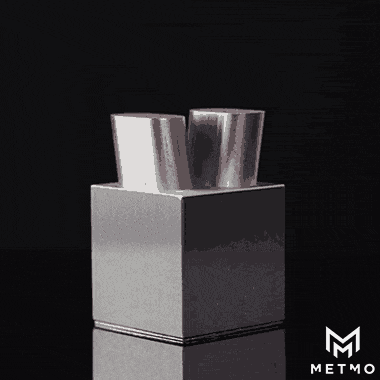 The most over engineered desk toy you can own! 
Made for designers, engineers, thinkers, and anyone who wants to just take a moment and focus, relieve stress, or simply just play around.
Simply invert the cube and let gravity get to work. The tolerances we've machined the cube to are so fine that we had to design a special base to allow the air to escape at a controlled
rate, it's an oddly satisfying cube that works in the palm of your hand.  
From Jet Planes to the Palm of Your Hand
We love pushing the boundaries with machining techniques. The process we've used to create this is called wire EDM (electrical discharge machining) and it's now so advanced that in some industries cuts are being made to 0.02mm, with tolerances being held to +/- 0.001mm! 
To put that into perspective, the average width of a human hair is only 0.08mm! That's how we achieve such a seamless and mesmerising effect.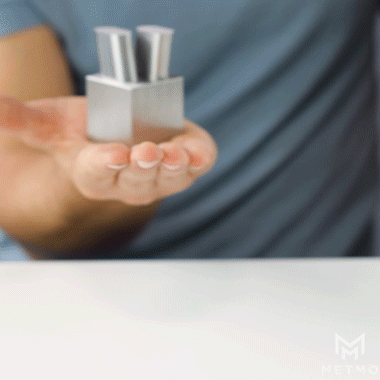 Inside the Cube
The Cube is made from solid stainless steel and weighs in at a reassuring 500 grams. It's super satisfying to hold, fiddle with or even just
stare at. Each side has been ground completely flat, so the surface is super smooth to touch.
The MetMo Cube is designed to work on any surface, whether it be your wooden desk at work, your living room carpet or even in the palm of your hand. 
Finer Wire
The new batches of MK3 Cubes have been manufactured using brand new machinery on a much slower setting, using a finer wire to achieve an even cleaner cut and improved tolerances.
Upgraded Steel Quality
Previously we used 304 Stainless and we've switched to 316 Stainless for a more pristine finish and improved elemental resistance. 
Improved Pneumatics
The most satisfying thing about the MK3 Cube is the improvement to the rise and drop. The pins now fall slower and have even better tactile feel and pressure.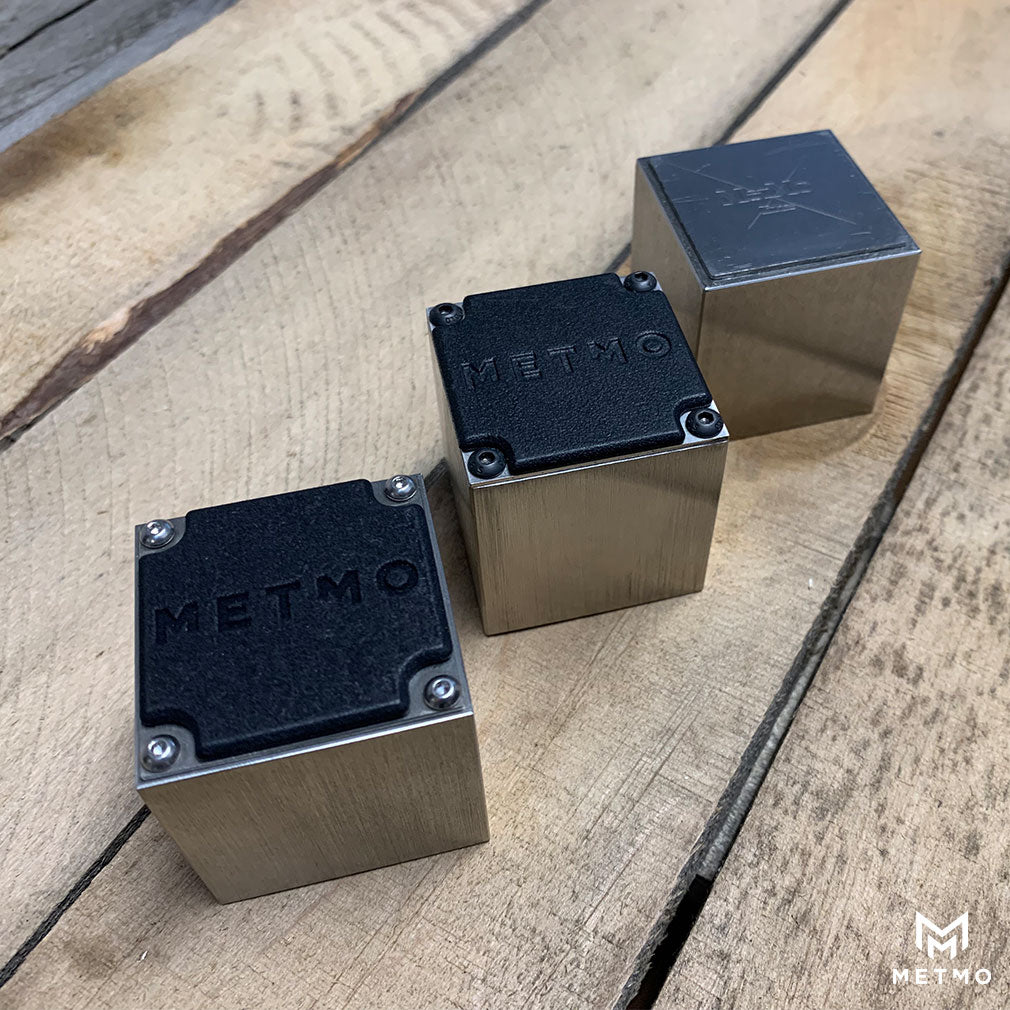 MK3 base
A reinforced base bolted firmly into place creates a hermetic seal for maximum pneumatic performance. A solid SLS laser printed foot clads the base to keep it in top condition for years to come.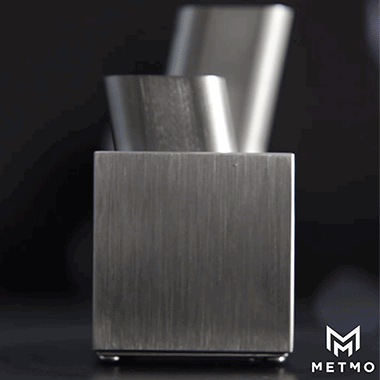 So, what's the deal, why does it cost £249.99?
The level of engineering that goes into creating something this precise is VERY specialist. 
It takes a great deal of skill, time and extremely expensive machinery to create the MetMo Cube. You might have seen some YouTube videos of similar objects, but they're only very costly demos. This is the world's first metal motion cube you can ACTUALLY OWN!
Want to get Metal Motion for someone as a gift?
It's perfect for any office, studio or workshop and really is one of a kind. Each MetMo Cube is expertly finished and comes with a unique personalised authenticity card with its very own serial number.
We love watching peoples' reactions to the Cube, they're instantly mesmerised by the flowing metal and find themselves playing with it over and over again - you can't resist!  
View from above
Each Cube is ground to within +/- 0.10mm. We didn't really need to do this... but we can, so we did!
With this image we've tried to choose a lighting angle to show where the EDM cuts have been made. In normal lighting conditions they are a lot more subtle, we just don't want to mislead anyone into thinking they're invisible. As far as we're aware this is the closest you can get with this technology.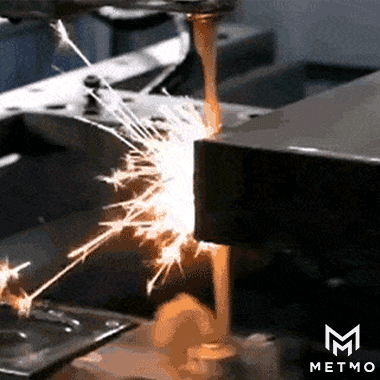 So, What Actually Is EDM?
Electrical Discharge Machining is a method of shaping metal to extreme tolerances and uses an extremely thin wire to cut through solid metals. if you'd like an in depth rundown of the process and fancy learning how it works, we'd recommend checking out some YouTube videos for wire EDM.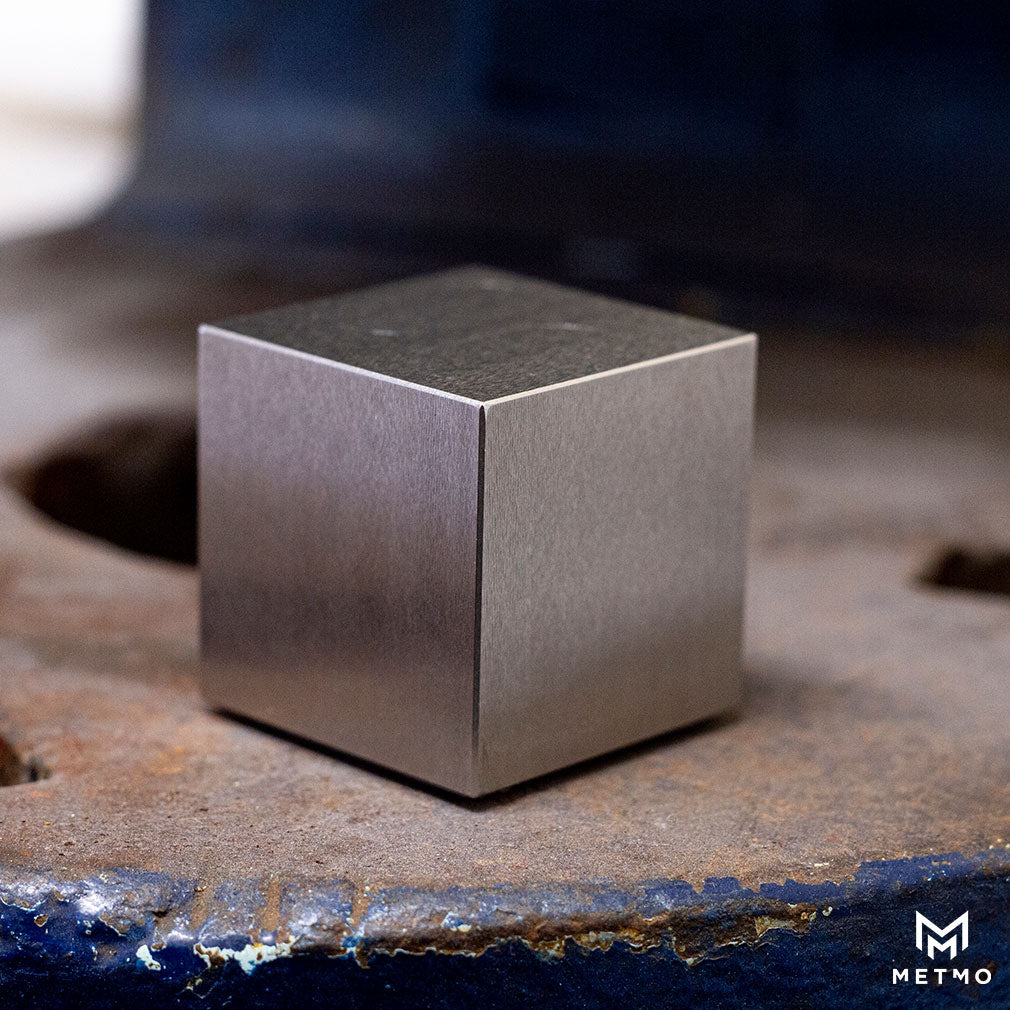 Why is EDM so special?
EDM allows us to make very, very precise shapes, structures and parts to perform very specific tasks where extreme tolerances are required. The interaction of the parts in our cube cannot be replicated using laser cutting, casting or CNC machining. 
MetMo Cube gives you access and ownership to a very special form of engineering technology, usually reserved for high-budget engineering programs and cutting-edge research.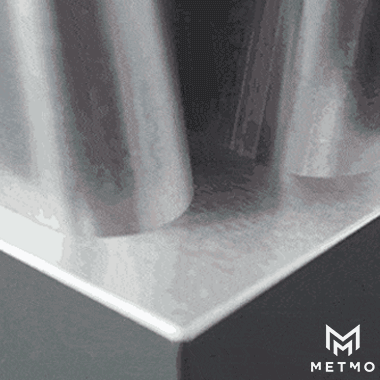 Why isn't everything made like this?
EDM remains a niche manufacturing method and is also very expensive. As such, most EDM made products are for specialist purposes, such as space exploration and aviation engineering. There are also limitations to what EDM can achieve and the reduced cost and flexibility of other metal cutting methods, such as CNC machining and laser cutting, puts EDM fairly low down the list of preferred manufacturing techniques.
MetMo Temperature Test
We've been asked a few times about how temperature change effects MetMo Cube, so we've been playing around with heating and cooling the cube and analysing the effects. Because the cube heats up uniformly, the tolerance change is so minute that it didn't effect how MetMo works. So in short, even if you live in an extreme climate where ambient temperatures can exceed 40C+ MetMo will still perform.  
One of the tests we ran involved heating up the outside of the cube and allowing the core to be a different temperature. Not really a real world test, but we wanted to try and break it. All we achieved was a decrease in drop speed.