Regular price
$115.26 USD
Regular price
Sale price
$115.26 USD
Unit price
per
Sale
Sold out
Since mankind first scrawled onto cave walls, we have searched for a tool that can provide dual-threaded satisfaction. Now it has finally arrived in the form of MetMo Pen.
*One ink cartridge pre-loaded into each pen*
Materials

6061 Anodised Aluminium (MetMo Aluminium Pen)

Premium HTB1 Brass (MetMo Brass Pen)
Dimensions

150mm (5.9") x 13mm (0.51") x 13mm (0.51")

31.5g (1.1oz) (MetMo Aluminium Pen)

92.7g (3.2oz) (MetMo Brass Pen)
Technical Details

Ink Refill Type: G2 refills which have a length of 98mm and a barrel diameter of 5.8mm.

Standard Parker type pen refills will work for MetMo Pen and are widely available for purchase.

*One ink cartridge pre-loaded into each pen*

Finish: Double threaded diamond screw surface

Machining Method: CNC Machined
Share
View full details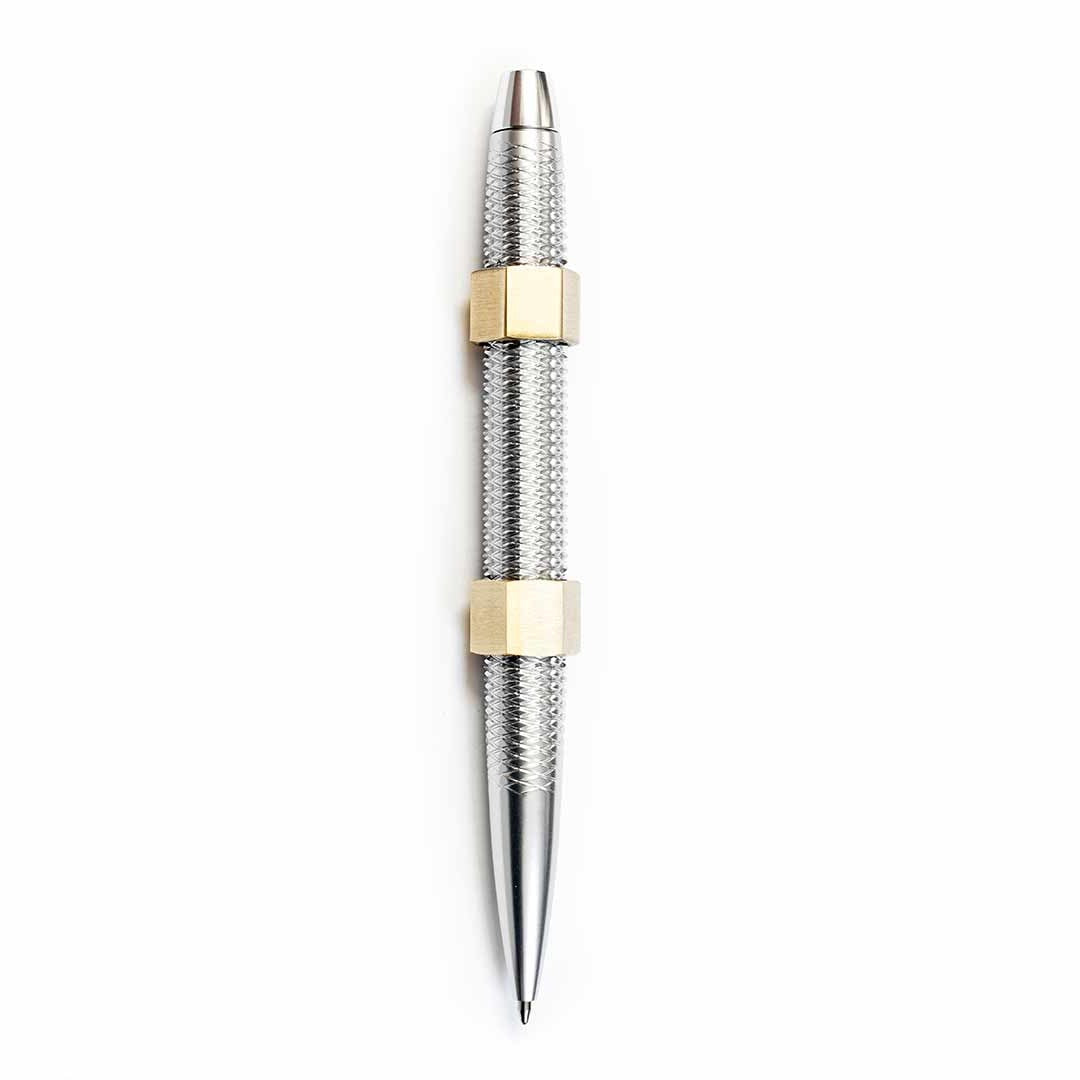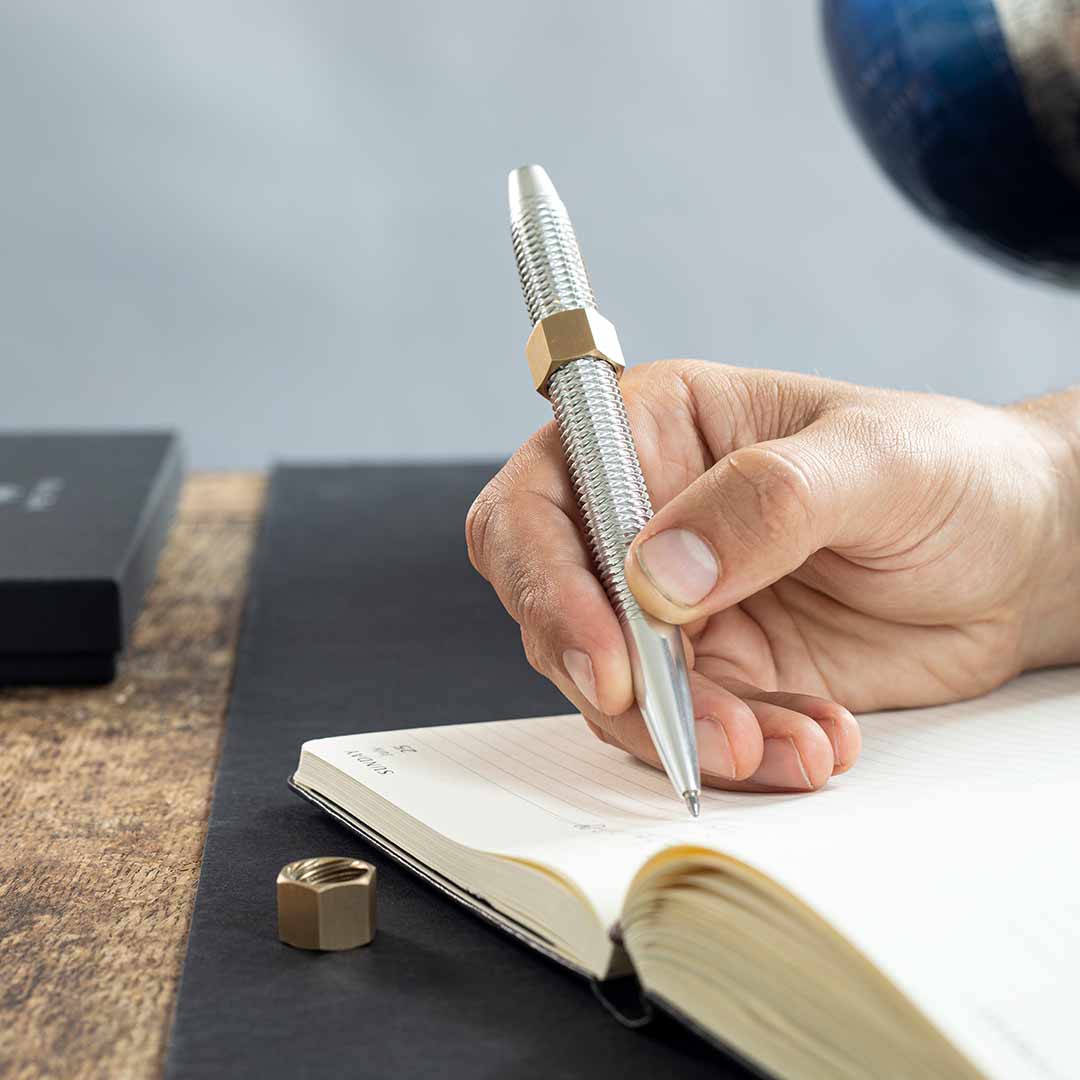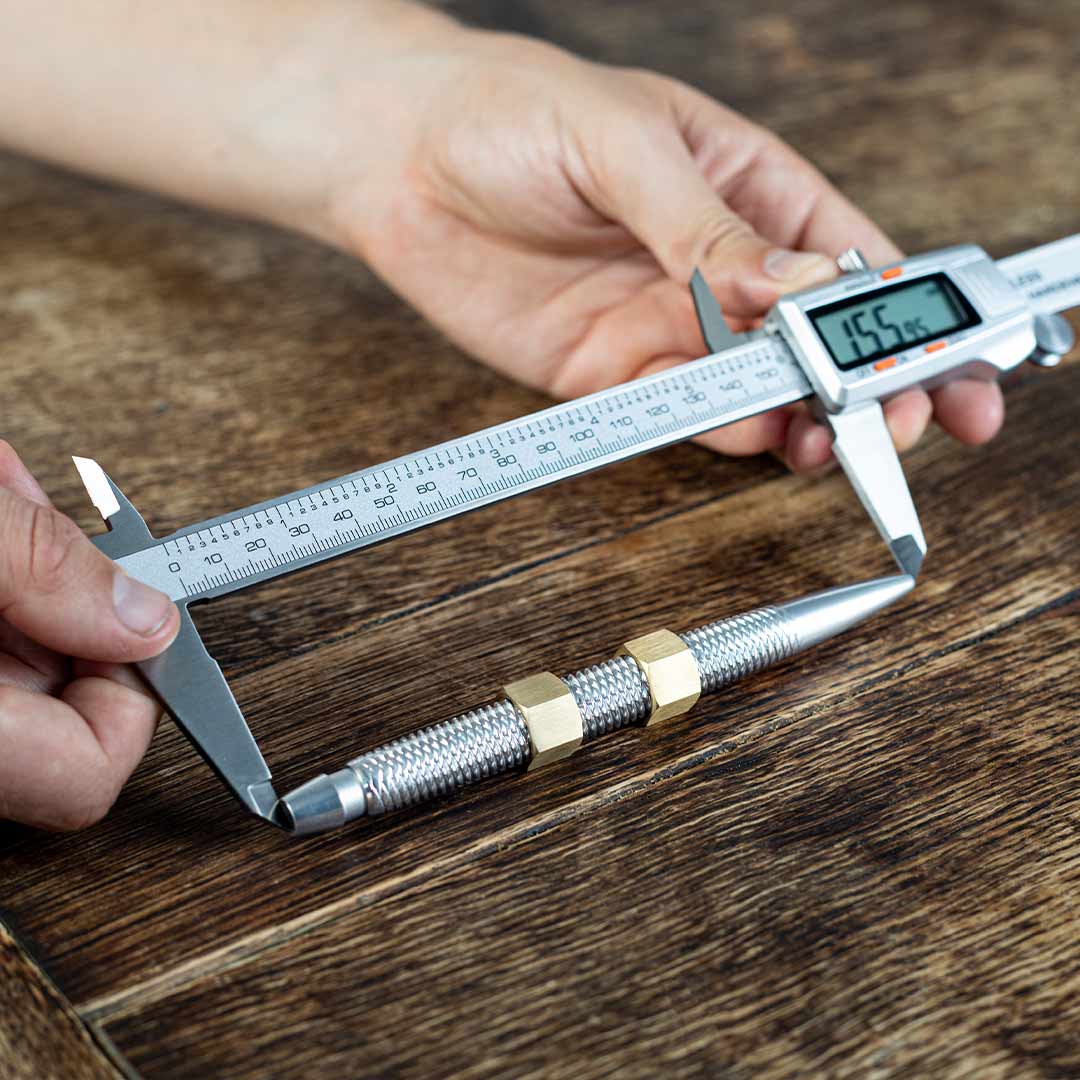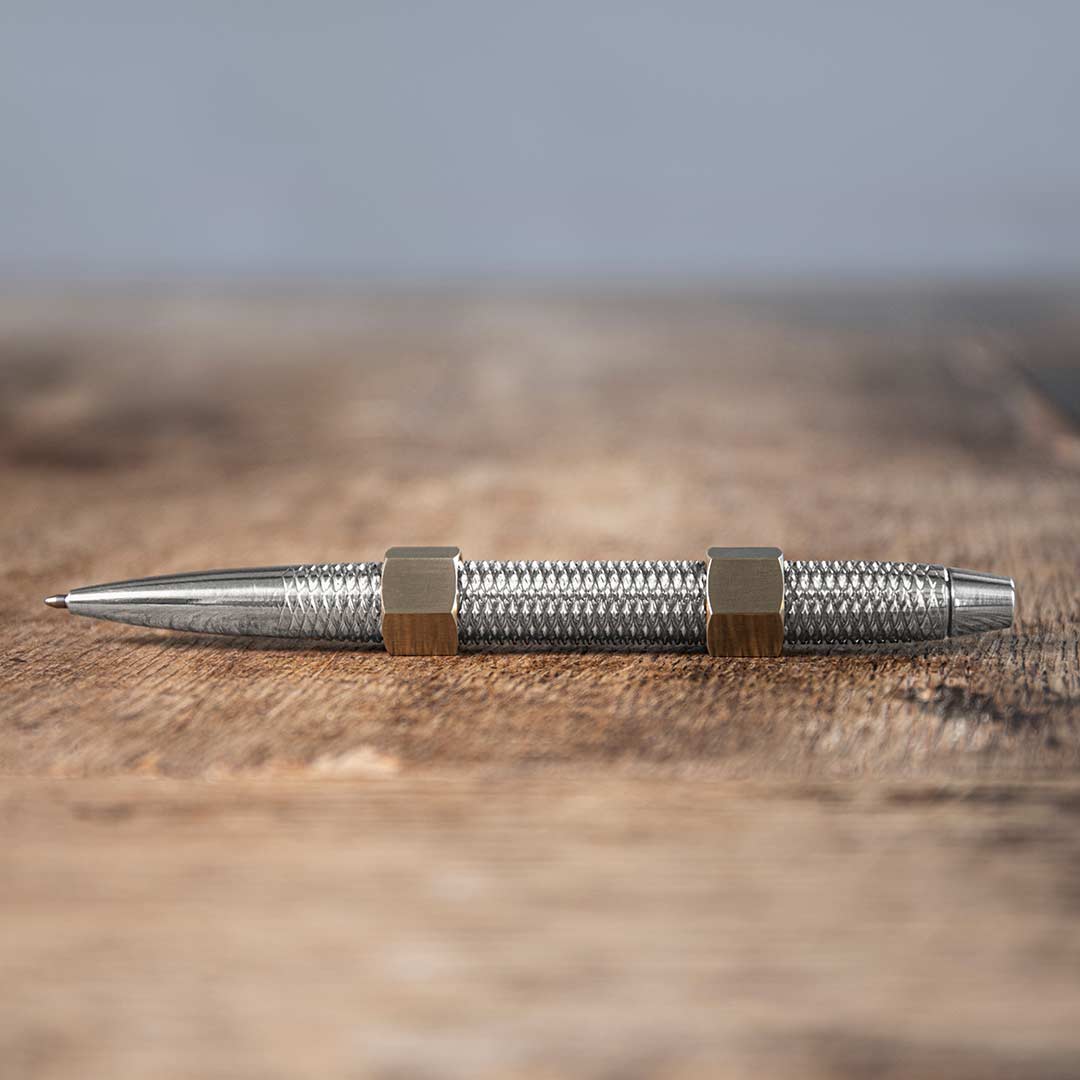 Why have we created this pen? 
We set out to create the ultimate fidget pen. We were fascinated by the engineered dual-threaded diamond screws that have been used since the start of the century, and the mesmerising effect they give when two nuts can spin in both directions, so we set to work to capture this magic and combine it with a solid writing implement.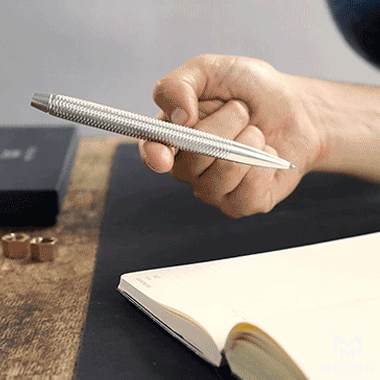 The Result?
The first functional diamond thread that you can actually buy!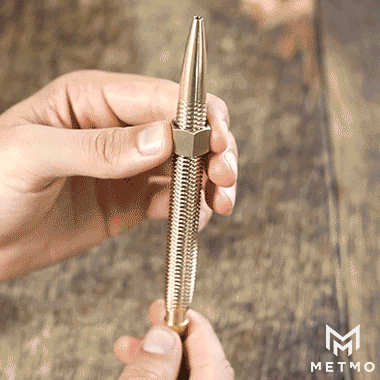 Who's it for?
Made for designers, engineers, thinkers, and anyone who wants to just take a moment to focus, relieve stress or just play around. Writing an essay by hand (at least that's how we did it back in my day) is taxing on the hand, but MetMo Pen provides instant relief both physically and mentally.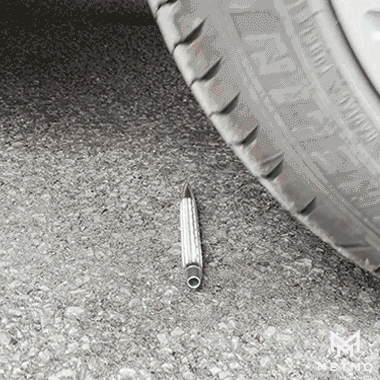 Super Hard Wearing
Machined from solid metals with a custom shallow angle thread, MetMo Pen just refuses to stop working. The increased pitch of the threads give them much more root material, making them incredibly strong when pitted against everyday drops and vehicular encounters. 
We've also built in a nice tolerance between the pen and nuts, which coupled with the huge thread engagement, means your MetMo Pen can survive even the most brutal encounters with heavy machinery.
 A satisfying object in more ways than one
Straddling the line between tool and toy, MetMo Pen serves perfectly as a quality everyday pen.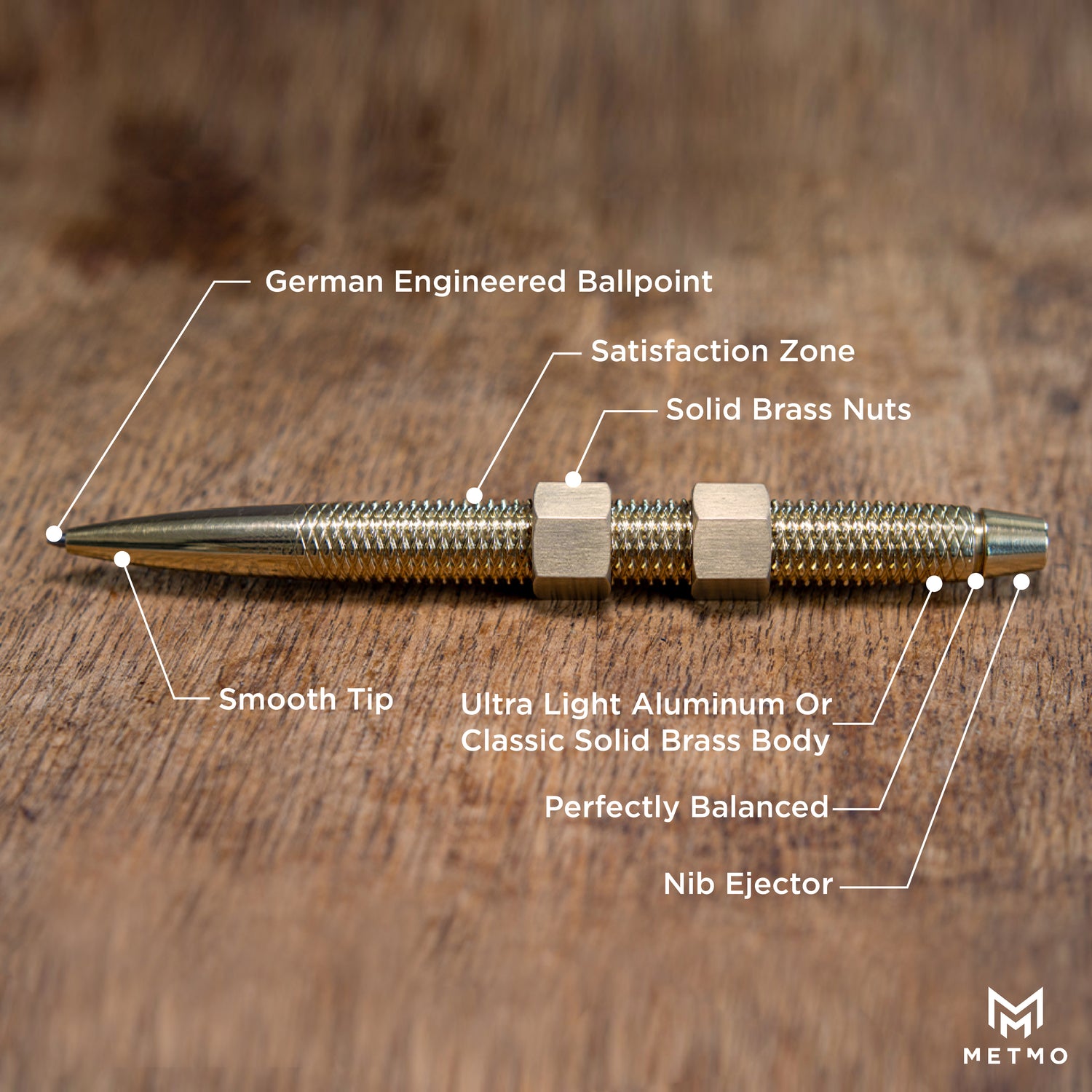 German Balls?
More than just a toy, this guy is designed to be a serious writing implement. A specially designed smooth-to-hold tip and a German engineered ballpoint makes using this pen a joy to use. We use a traditional oil based ink and the quality of the cartridge ensures no blotting with a smooth line weight from the moment you put pen to paper.
Comfort Grip
Machined to a smooth tip, MetMo Pen is made to be comfortable to hold. Through many hours of testing we stripped back the texture just enough so that it gives a premium feel while writing.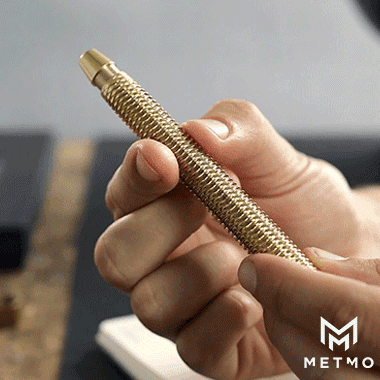 Satisfying Tactile Feedback
The machined diamond pattern is more than just a knurled finish and gives instant pressure feedback to relieve those anxious fingers.... it's like a tiny massage for your hands, it sounds odd but it really feels good!
Solid Brass Nuts
Two precision machined nuts with a multi-start thread bring this design to life. Fiddle with a motion like no other as these two nuts spin in opposite directions but move in the same direction! What!? Weird but so cool!
Perfectly Balanced Aluminium and Solid Brass
Precision machined and precisely weighted. MetMo Pen is in line with the finest writing implement you can buy, because we wanted this to be an excellent pen that is a joy to write with. We spent countless hours perfecting this so it feels totally natural to use. 
Silky Smooth Ejection
More than just a toy, deez nuts can be used to eject the pen in a silky smooth and satisfying way.  Hold the loader, pull down and watch the magic.
Add-on Case
What pen is complete without a case?
We wanted to create a weighted case unlike any other that shows off the full dual-threaded nature. This is the perfect place to keep the pen looking great, while making a statement and an interesting talking point on your desk.
Brass Case
Making a MetMo Pen
MetMo Pen is available in two options, either machined from solid 6061 grade aluminium which is then hard anodised or premium brass. They both come with two solid brass nuts included as standard.
Each component is precisely formed using state of the art CNC machines. The complex geometry that allows the pen to perform its magic is slowly and precisely machined into the outer profile, one silky smooth thread at a time. The machine is then indexed 45 degrees and another thread is formed. This process is repeated six times.  Once complete, the machine is switched over to create the anti-clockwise threads and the process begins all over again. I'm tired just typing this! 
History of this simple mechanical motion
What's so special about this thread, I hear you ask? Can't you just make it the same way you make a screw? 
Well, the first thing is that diamond screws are not really screws at all! At least not the conventional way we think of screws, like the ones that hold chairs together. They are more akin to the Archimedes screw, that is a profile designed to achieve a specific job. 
So, what's the use of a diamond screw? 
The earliest examples of diamond screws in use date back to 1892, where it was applied to a mechanical screwdriver during a period of fierce innovation started by Isaac Allard and can still be found today. Although it has been heavily refined over the years with extra ratchets and features.
More on the Diamond Screw
A variation of a continuous diamond screw was also invented in 1938 on the oil fields of Texas to handle winding and prevent damage to steel cables that, at the time, were a recent innovation. These are still in use all over the world today, mostly on ships and in industry where these cables are produced. 
Outside of large industry, the double threaded profile does not feature in anything that you can buy due to the expense of manufacture and limited mechanical properties.  
Our take on the mechanical principal has eight starting points, compared with a conventional two, and then stacked on top of each other to miniaturise the diamond pattern, so MetMo Pen is a combination of the diamond screw and a high torque ball screw used in machinery!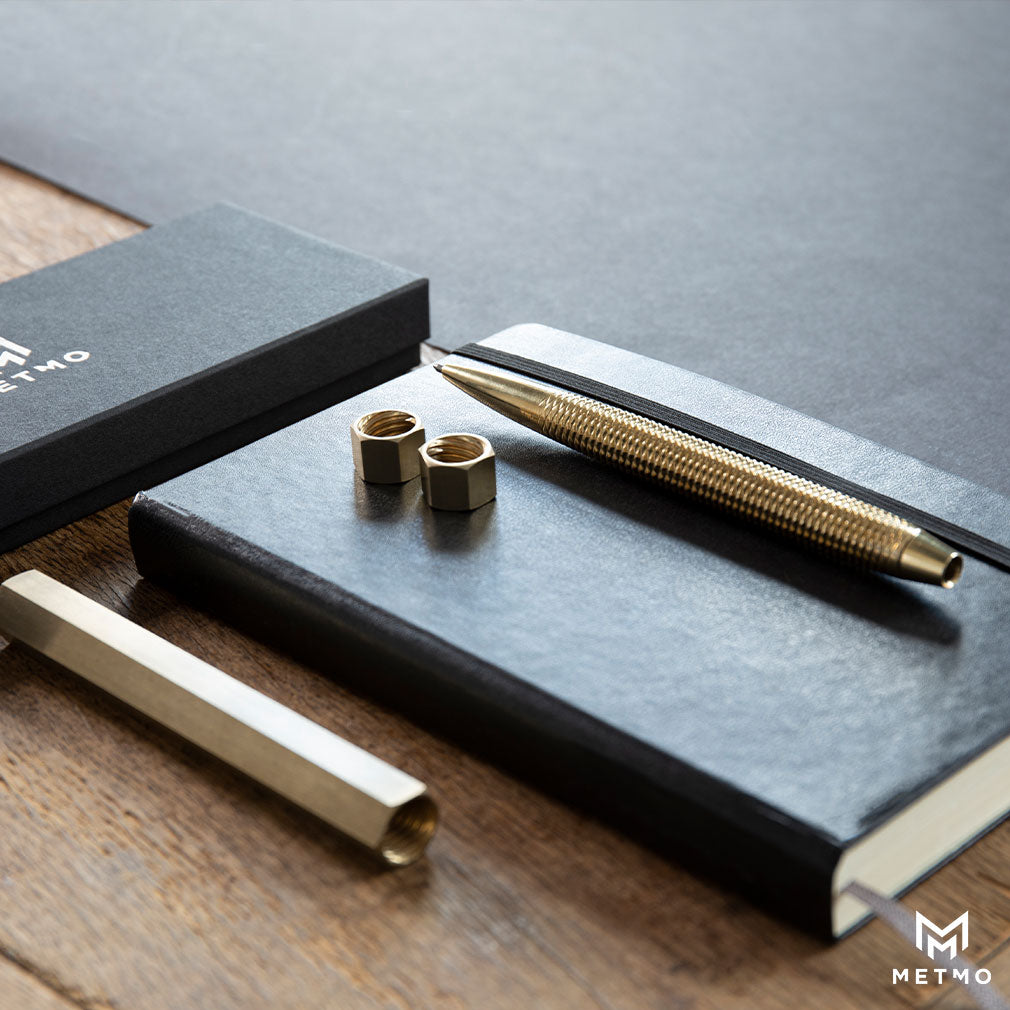 So, what's the deal? Why does it cost £89.99?
We always use the best materials we can get our hands on. We've used premium brass and hard anodised aircraft grade aluminium. Each part is individually machined in a laborious low volume production machine, then every part needs to be set up by hand and slowly cut to ensure the fine tolerances are maintained to make sure each part fits together perfectly. This all adds to the time and expense of making each pen. 
We wanted to create a piece that was less mass-manufactured to allow a more unique design that could really capture the magic of the engineering involved. 
MetMo Pen is only produced in small batches, this helps to maintain quality and ensure our unique designs last a lifetime.